Read about Jaffarian in the news:
The Lawrence Eagle-Tribune quoted Gary Jaffarian on the 2014 Volvo S60: "They took something that was great looking and made it look even better," said Gary Jaffarian, president and chief executive officer of family-owned Jaffarian Volvo Toyota Scion, which has been selling Volvos in Haverhill since 1958.  Jaffarian sees drivers drawn by the retuning of the auto's appearance. Read the article.

Armenian Weekly
The Sunday 12/129/13 "Wheels" Section of the Lawrence Eagle-Tribune featured this photo of the Haverhill Mayor presenting a citation to the Jaffarian family for their 75th year as a family business: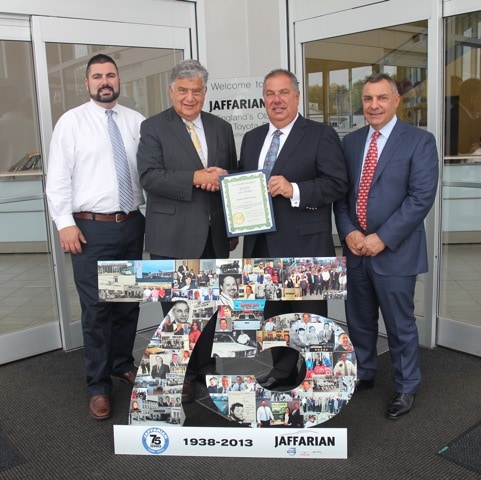 Pictured are: Gavin Jaffarian, Haverhill Mayor James J. Fiorentini, Gary Jaffarian and
Mark Jaffarian.