Learn About The Heightened Luxury in the New 2020 Volvo V90 Cross Country
For its latest luxury vehicle offering, Volvo took the V90 wagon and added a new layer of rugged, off-road capability without sacrificing what gave its parent model that sense of grandeur. This resulted in the all-new 2020 Volvo V90 Cross Country, equipped with an impressive 8.3-inches of ground clearance for trailblazers, offering 2.5-inches more than a typical V90 model. Now that this brand-new luxury crossover wagon has landed at the dealership, our team at Jaffarian Volvo is excited to help our customers in the Haverhill, MA area dive into the potential of this all-new vehicle.
What's New With The 2020 Volvo V90 Cross Country?
For its 2020 model year, the Volvo V90 features a new entry level trim, the 2020 Volvo V90 T5. Motivated by a turbocharged 250-horsepower 2.0 liter engine, the 2020 Volvo V90 Cross Country T5 should prove plenty capable for most Massachusetts drivers, as its standard all-wheel drive makes it adept at maneuvering on icy and snowy roads.
The V90 Cross Country Impresses - Inside & Out
Powered by a T6 2.0-liter, 4-cylinder engine, the V90 Cross Country packs an impressive 316-horsepower and 295 pound-feet of torque into its exciting performance - along with an 8-speed automatic transmission. Drivers will also appreciate the selectable drive modes including a standard hill-descent control feature that makes driving in treacherous conditions smoother and safer. The large 19-inch wheels and Thor's Hammer headlamps round out the reinforced exterior, built to tackle the great wilderness with an imposing yet sleek design.
The interior, on the other hand, opts for a much greater sense of luxury - with premium heated, 10-way leather front seats and Volvo's enhanced Sensus Connect infotainment system. The latter offers both an impressive 9-inch vertical touchscreen in the center console, as well as a 12.3-inch LCD display behind the steering wheel. Other options an available high-quality Bowers & Wilkins Premium Sound System so you can enjoy every moment on the road.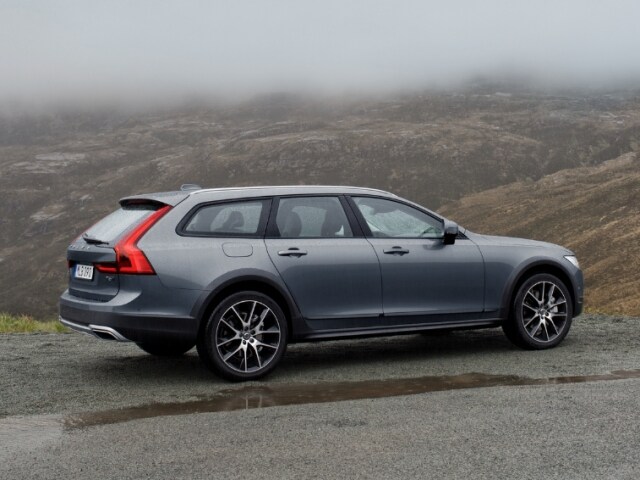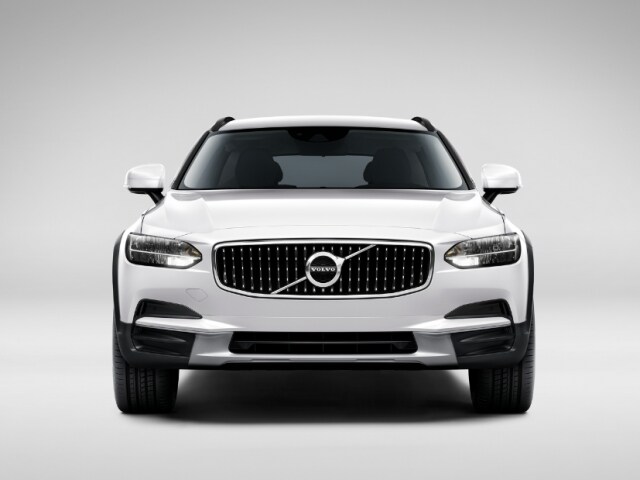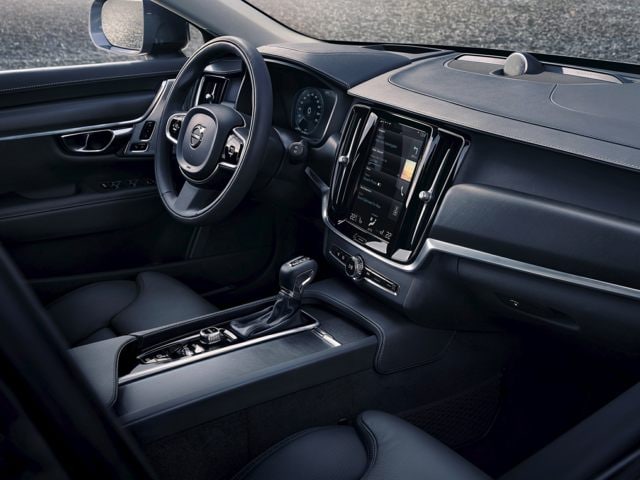 Modern Technology Provides Safety & Convenience
The V90 Cross Country never fails to offer over-the-top convenience and features for drivers who long for the sophistication of a sedan married with the versatility of the quintessentially Volvo wagon.
The V90 Cross Country offers exceptional convenience features for its drivers that make life on the road a little easier, such as the CleanZone air filtration system; this ingenious feature creates a breath of fresh air every time you enter the vehicle. The technology filters dust, pollen, odors, and other particles that may affect air quality while continuously monitoring air quality and pollutant levels to ensure clean, fresh air at all times.
Another innovative feature that offers enhanced convenience in your Volvo is the Volvo On Call app which makes it easy to manage your vehicle's systems from the comfort of your kitchen table through your smartphone; you can control the cabin climate before you ever leave the house, so no matter the weather you'll be comfortable as soon as you step in. You can even use the app to create a Wi-Fi hotspot from the back seat.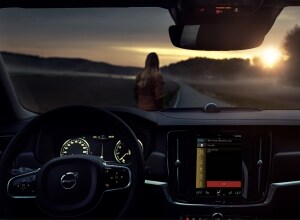 Safety is at the top of every driver's wish list and the Volvo V90 Cross Country doesn't disappoint, with a well-rounded suite of safety features that help make driving through the sometimes unpredictable streets of Andover, Methuen, and Newburyport easier with City Safety. This feature works by monitoring your surroundings and detecting possible collisions with large animals, cyclists or pedestrians. The system then works by preparing the brakes when danger is sensed, and automatically applying the brakes when a collision threat is detected and the driver fails to react. Long highway trips are made a little safer and less grueling with the Pilot Assist system; this technology intuitively adjusts your steering to keep the V90 Cross Country within the assigned lane, thereby further reducing the chance of a collision.
Explore The Available 2020 Volvo V90 Cross Country Trims At Our Haverhill, MA Volvo Dealership
2020 Volvo V90 Cross Country T5




Clocking in at a competitive starting MSRP, the 2020 Volvo V90 Cross Country T5 is a well-appointed wagon for most day-to-day driving here in Massachusetts. Featuring standard all-wheel drive and a raised ground clearance, the 2020 Volvo V90 Cross Country T5 is great for driving in snow or traversing snowy access roads to your favorite ski areas.

However, no matter the conditions you face outside, you'll find the interior of the 2020 Volvo V90 Cross Country T5 to be an oasis of comfort, complete with your choice of Amber or Blonde leather upholstery, dual-zone automatic climate control, and even a panoramic sunroof.

The 2020 Volvo V90 Cross Country T5 also features some great standard technology, as its crisp Sensus Connect infotainment system offers easy connectivity with your favorite mobile devices, standard Volvo navigation, and an intuitive interface that will prove effortless to use on the road.

2020 Volvo V90 Cross Country T6




For those who're looking for more luxury and a few extra creature comforts, the 2020 Volvo V90 Cross Country T6 is the clear choice. Outfitted with heated front seating, a heated leather steering wheel, and a 12.3-inch Digital Driver Display, the 2020 Volvo V90 Cross Country T6 aims to meet and exceed your expectations.

In addition, this trim gets a significant boost to power. Going from a 250-horsepower turbocharged 2.0-liter engine to a 316-horsepower turbocharged and supercharged four-cylinder engine.

What's more, for those who crave even higher levels of luxury, the 2020 Volvo V90 Cross Country T6 features an available Luxury Package, which is not an option on other trim levels. This Luxury Package includes ventilated Nappa leather seating, seat massage functions, heated outboard rear seats, four-zone automatic climate control with a cooled glove box, and even a leather-clad dashboard and door panels, making it the package option of choice for Massachusetts drivers of truly discerning tastes.

Find Your V90 Cross Country Near Andover & Newburyport At Jaffarian Volvo
There are plenty of reasons why the new 2020 Volvo V90 Cross Country is the next big Volvo to be excited for. Luckily, now that it's arrived, you can share your enthusiasm with the team at Jaffarian Volvo when you visit for a test drive! Whether you're from Andover, Methuen or are a neighbor from over in Newburyport, you can bet that you're welcome to stop by our family-owned Volvo dealership to explore each of our new Volvo models!
---
Request a Test Drive in the 2019 Volvo V90 Cross Country